2017-Mar-16 - Marcelo BareBangs Maranhao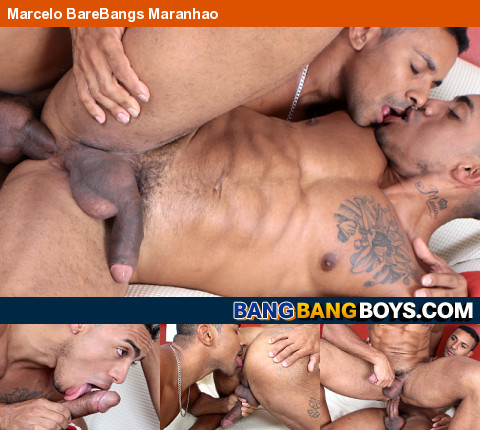 Marcelo is relaxing on the couch reading when in walks Maranhao. His tanned, tight, tattooed body is clad only in a white jock that barely contains his growing erection. Whilst Marcelo's book was interesting there's no way you could ignore such a vision of fuckability in front of you. Maranhao soon has Marcelo's monster cock out of his pants and in his mouth. He valiantly attempts to consume the entire thick beast and does a good job - only gagging occasionally.

Marcelo then takes his turn at sucking Maranhao's fine cock - then spins him around to inspect his hole with his tongue - lubing it with his spit for its impending bareback fuck.

With a little bit of Gun Oil the fat piston is ready for action and Maranhao's muscled ass gets pummelled with Marcelo's raw cock. He bounces up and down on that meat stick - taking every inch deep inside his ass. It's a hot session that ends with huge wads of cum on those ripped abs.
Comments (0) :: Permanent Link
2016-Dec-1 - Marcelo Mastro BareBangs Flavio Canto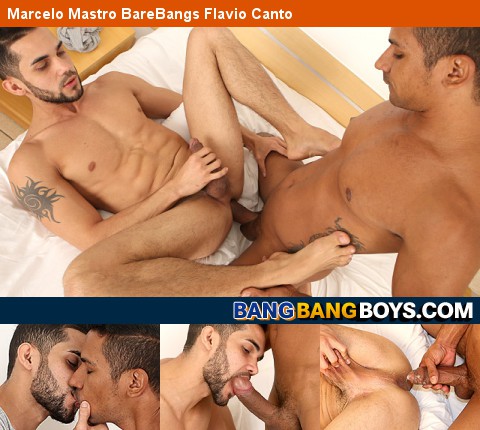 Whilst the view is pretty amazing on the balcony for Marcelo and Flavio there's no denying that Flavio just wants to get a taste of Marcelo's legendary bare cock in his tight white ass.

The come inside and Marcelo teases Flavio nipples with his tongue. Flavio then dives on top of Marcelo's meaty monster with his lips - attempting to deepthroat it and covering it all in waves of spit to get it nice and wet.

Speaking of getting things wet - Marcelo moistens Flavio's hole with his tongue - now his cock and the ass are wet it's time to enter Flavio's man pussy. It's not an easy task to take Marcelo's cock quickly. At first it's a slow process but then once in Marcelo starts to increase the speed. Flavio jumps on top and Marcelo's raw dick disappears deep inside. Ay ay ay that thing is huge and Flavio is enjoying every single inch.

Lying on his back the look of the hunky Flavio's rippling abs is too much for Marcelo and he cums all over the now well used hole.
Comments (0) :: Permanent Link
2016-Nov-3 - Marcelo Mastro, Hugo & Andy Star 3-way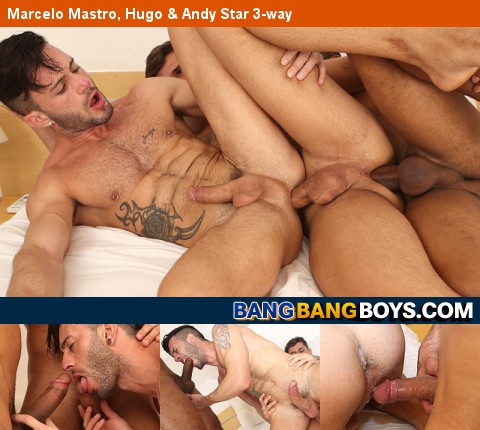 You would think that Hugo and Andy Star bareback fucking would be a hot enough video for anyone. But here at BangBangBoys we want you to blow your minds and your loads with more so we added the mammoth cock of Marcelo Mastro into the mix.

The three of them kissing and sucking cock is enough to get your attention - their muscled, tattooed bodies swapping from cock to cock will make you horny for weeks. Andy Star deepthroating Marcelo's big thick cock - gagging on it as Hugo fingers his ass ... oh my.
The three move into a barebacking fuck chain - lucky Hugo in the middle getting fucked raw by Marcelo while he fucks the delectable Andy Star. He moans and cries out in absolute ecstasy!

Being fucked by Marcelo's big dick is an impressive feat for any bottom but Andy Star manages both Marcelo's and Hugo's cocks in his ass at the same time!

There's so many positions in this scene - they switch and move and finally Andy ends up with cum in his ass and all over his face. A fantastic finale for sure!
Comments (0) :: Permanent Link
2016-Oct-6 - Marcelo Mastro Barebangs Thiago Sartori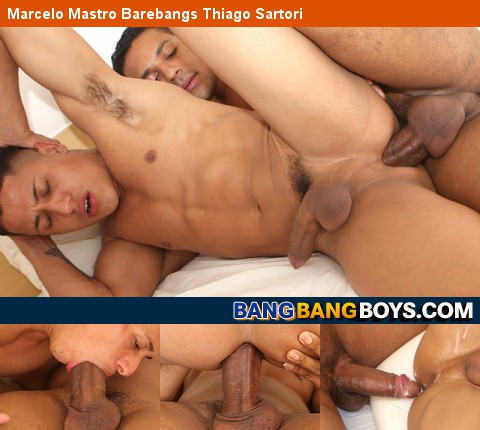 Thiago is giving Marcelo a foot massage - he rubs Marcelo's feet and sucks his toes. They start to kiss - on the lips and then Marcelo takes Thiago's nipple in his mouth while Thiago tweaks the other.

Marcelo is hard - his huge cock is out of his pants and Thiago is licking and sucking his thick shaft with intensity. Marcelo is a generous lover and sucks on Thiago's dick before the two move into a 69 position - Marcelo's tongue in Thiago's ass while he sucks on Marcelo's big dick.

As intense as the foreplay is the raw fucking is even more so. Impaled on the end of Marcelo's massive cock Thiago groans with pain and ecstasy but his ass swallows every inch and bounces up and down - muscles flexing.

In and out, in and out - the relentless fuck session continues until two they both explode in waves of cum.
Comments (0) :: Permanent Link
2016-Sep-15 - Neo Barebangs Andy Star
Andy is on the balcony enjoying the view - all the while craving raw cock. He makes a call and before you know it hung stud Neo walks through the door. He can't wait to shove that cock in his mouth. Neo pulls his handsome face far down onto his cock - Andy gags and chokes.
Neo flips him over to rim his perfect ass - getting it ready to receive his thick beast of a dick. Andy's hole is good and ready and he climbs onto that cock and bounces - swallowing every inch with a grin and a grimace.

It feels good - really good - insanely good and Andy cums all over himself while Neo is filling his hole. Now Neo takes charge and keeps barebanging Andy until Andy's hole is covered in Neo's cum.
Comments (0) :: Permanent Link
2016-Sep-1 - Marcelo Mastro BareBangs Italo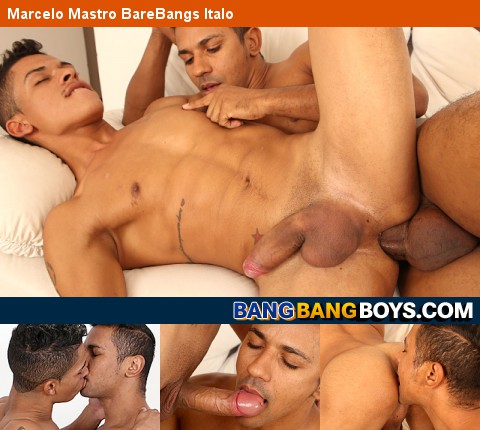 There is no doubt that the sight of a Brazilian beach would turn anyone on. Italo and Marcelo take in the view on the balcony but even such a perfect sight won't deter them from fucking bareback inside.
Italo does his best to deepthroat Marcelo's massive monument of cock. He does an impressive job and Marcelo thanks him by sucking Italo's cock as well.

Italo is then on his knees as Marcelo rims his ass - alternating between opening up his hole with his fingers and his tongue. It's then time for Italo to take that big cock deep inside.

The look on his face is priceless as he winces with pain and pure pleasure all at the same time. He bounces up and down on that thick beast moaning with pleasure.

Italo cums all over his ass while Marcelo cums all over his hole - it's a sticky mess but the sign of a job well cum.
Comments (0) :: Permanent Link
2016-Aug-18 - Hugo Barebangs Vinicius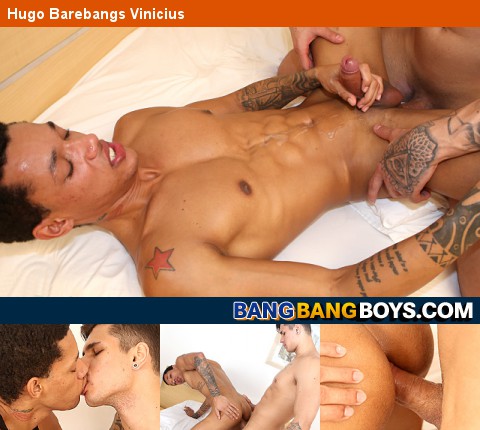 Hugo and Vinicius head out to the beach to enjoy the scenery and stretch out. But the two of them are far too horny to hang outside so they go indoors and start undressing each other. Hugo has a big thick dick and Vinicius relishes shoving the whole thing into his mouth.

Hugo then lubes up Vinicius ass with his spit and his tongue before he fucks him bareback. Having his ass full of Brazilian cock is so hot Vinicius cums all over his abs. That inspires Hugo to pull his cock out and cum on Vinicius' gorgeous face - Vinicius swallowing every drop.
Comments (0) :: Permanent Link
2016-Jun-9 - Apolo BareBangs Vinicius Costta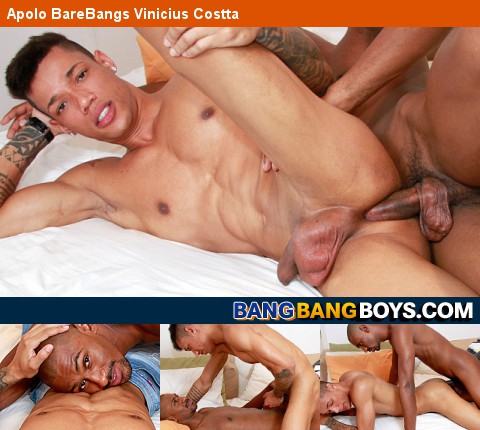 Two big cocks is always better than one and both Apolo and Vinicius have been blessed with big dicks. These two start ripping off their clothes and exploring their bodies like they haven't had sex in years. Vinicius starts deepthroating Apolo's long dark cock - Apolo slamming the back of his throat with each thrust of his hips.

Apolo then throws Vinicius against the wall and lubes his tight ass with his tongue. His raw cock is then sliding in and out of Vinicius who winces with each stroke. Vinicius cums all over his washboard stomach - eating his own cum in ecstasy. Apolo sprays Vinicius' ass with his own cum. Everyone's happy.
Comments (0) :: Permanent Link
2016-May-26 - Tony Dias & Gustavo Ryder BareBang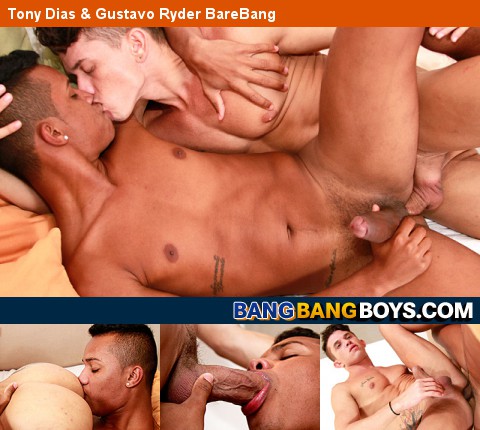 Tony Dias and Gustavo Ryder are truly versatile guys who like to fuck and get fucked. So when they couldn't decide who would top we figured a flip flop bare banging fuck session was the answer. Tony deep throats Gustavo's big black dick to begin with getting it good and hard so it can penetrate his ass cheeks with gusto. Tony jumps on that monster cock with glee and then rides it like a rodeo pro. The then flips Gustavo and rims his ass getting it ready for his own raw cock. He fucks Gustavo's fine ass until the both of them cum - happy BangBangBoys.
Comments (0) :: Permanent Link
2016-May-12 - Marcelo Mastro Barebangs Andy Star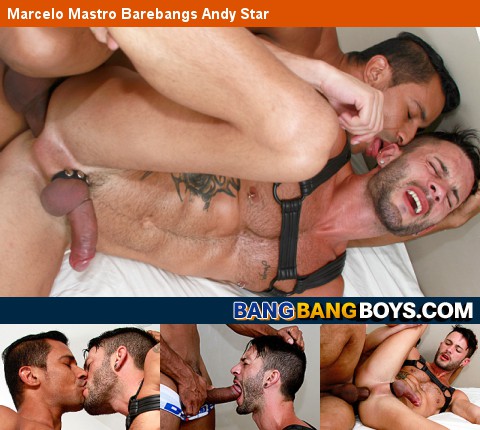 We've filmed a lot of hot scenes here at BangBangBoys but this one stands above them all. The amazingly ripped and inked Andy Star in a leather harness on his knees deepthroating the monster cock of Marcelo Mastro. Marcelo treating the suck pig roughly - pulling his hair and grabbing his throat. He lubes up Andy's hole and then that cock is impaling Andy as he screams for mercy. There's no mercy here - just a butt load of cum deposited deep inside the abused hole.
Comments (0) :: Permanent Link
2016-Apr-28 - Apolo BareBangs Tony Dias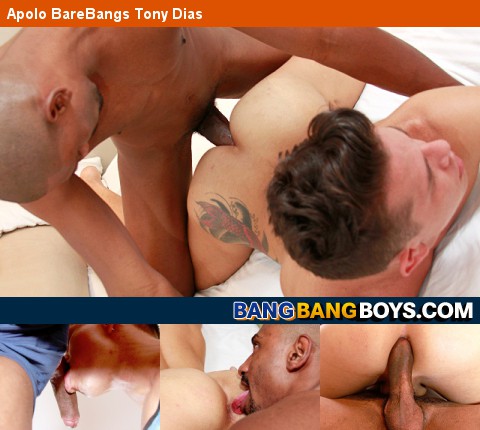 Apolo and Tony are locked together - their lips - their hands oozing with intensity and anticipation of a barebanging fuck session. Tony is on his knees getting slapped in the face with Apolo's big dick. Apolo face fucks him slapping the inside of his throat with his cock. Apolo then throws him on his back - his raw cock itching to get inside his ass. Tony groans with sheer pleasure as his ass is pummeled by Apolo's ebony monster cock. He explodes a huge load all over Tony's tight cheeks - this fuck session did not disappoint!
Comments (0) :: Permanent Link
2016-Apr-14 - Marcelo Mastro BareBangs Gustavo Ryder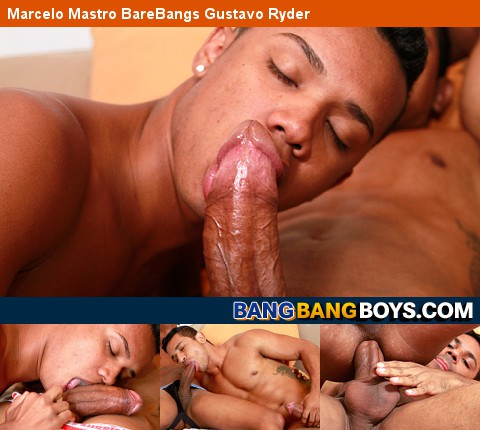 Marcelo and Gustavo are making out on the bed. Of course Gustavo is familiar with the legend of Marcelo's big fat dick. So it doesn't take long for him to break the beast free from his pants. He sucks on Marcelo's thick meat, doing his best to deepthroat every inch. Marcelo bends Gustavo over to start rimming his tight ass - alternating between his hole and sucking his erect cock. Then to a 69 with the two big cocked men sucking hard. Gustavo's ass is now ready for the pounding he's been hoping for and Marcelo never fails to disappoint.
Comments (0) :: Permanent Link
2016-Mar-31 - Jhonnatan BareBangs Andy Star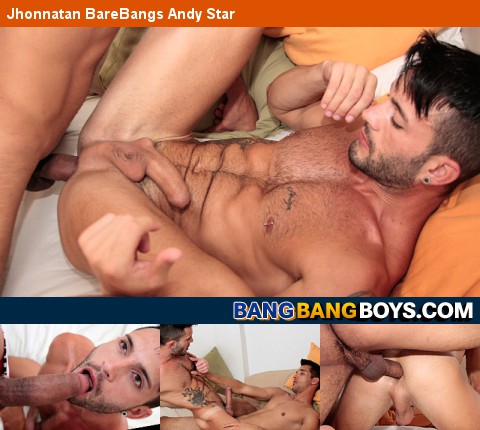 Jhonnatan sees Andy's perfect ass framed by his jock lying on the bed. No red blooded Brazilian man could see an ass like that and not want to dive in there. His tongue gently licks between the perfectly formed cheeks rousing Andy's desires.

The two trade blow jobs and then Jhonnatan throws Andy against the wall and removes the jock strap so he can get full access to Andy's star. His raw cock slides in and out as they use every inch of the bed. The sweat drips from Andy's ripped torso as he rides Jhonnatan's cock then sucks it a bit. Fucking a guy as hot as that is bound to produce a payload of cum - which Jhonnatan breeds right back into Andy's well pounded hole.
Comments (0) :: Permanent Link
2016-Mar-17 - Victor Pear BareBangs Tony Dias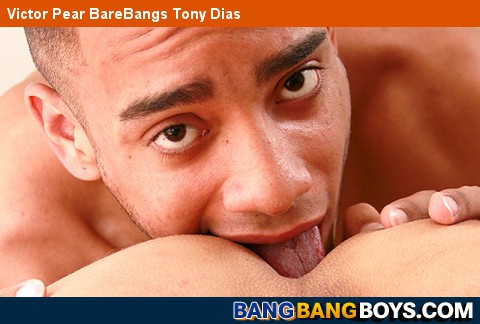 I love tattoos and there is a moment in this scene where Victor reaches into Tony Dias' jeans to expose his tattooed ass that just has me squealing with delight. But I'm ahead of myself - Victor Pear is one of our new BangBangBoys and Tony Dias starts by sucking his cock and swallowing his balls. It's then that Victor coaxes Tony's tattooed ass out and blows him before lubing his hole with his tongue. He then barefucks the cum out of Tony Dias and his own cum which sprays all over that bare inked ass.
Comments (0) :: Permanent Link
2016-Mar-3 - Marcelo Mastro Barebangs Vinicius Costta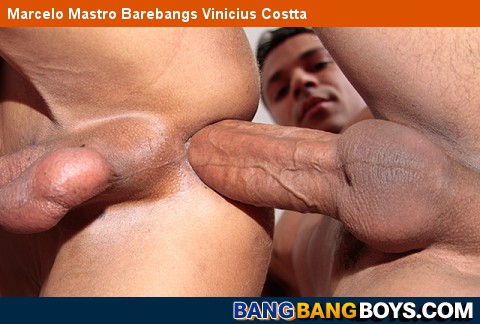 The hot new talent continues this week with big dicked Vinicius Costta getting barebanged by even bigger dicked Marcelo Mastro. Vinicius is ripped - Marcelo is totally turned on by what he sees that they lock lips with such intensity you know we're in for a fantastic fuck session. Marcello rips Vinicius jeans off and deep throats his long schlong, then turns him around to rim that tight ass. Then it's Marcelo's turn as Vinicius unleashes that legendary dick from his pants and sucks it like a man possessed. It's then his chance to ride and ride it he does - bouncing up and down taking every inch deep inside. Marcelo is so turned on by this fuckathon that he explodes in a tidal wave of cum all over Vinicius' pounded ass. Anyone got a cigarette?
Comments (0) :: Permanent Link
About Me
Top 10 Referers